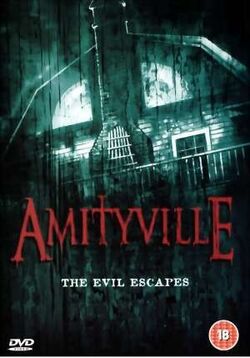 Amityville 4: The Evil Escapes
(or simply
Amityville: The Evil Escapes
; the onscreen title is
Amityville Horror: The Evil Escapes
) was released in 1989 as a television film by NBC. It is the fourth installment in the
Amityville Horror
saga. It was released on home video by Vidmark Entertainment, then released on DVD twice by Allumination Filmworks in 2003 and 2007. This was the only
Amityville
sequel to be based on a book in the main book series.
Amityville: The Horror Returns
was also going to air on NBC but the film was never made.
Ad blocker interference detected!
Wikia is a free-to-use site that makes money from advertising. We have a modified experience for viewers using ad blockers

Wikia is not accessible if you've made further modifications. Remove the custom ad blocker rule(s) and the page will load as expected.