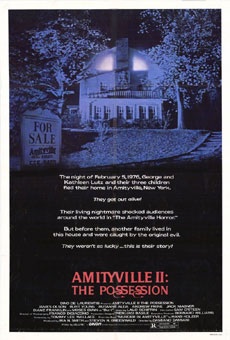 Amityville II: The Possession
is a 1982 supernatural horror film directed by Damiano Damiani. The screenplay by Tommy Lee Wallace is based on the novel Murder in Amityville by the parapsychologist Hans Holzer. It is a prequel to
The Amityville Horror
, set at 112 Ocean Avenue and featuring the fictional Montelli family loosely based on the DeFeo family. The cast includes Academy Award nominee Burt Young who was finding fame in Rocky at the time; there are a few references to the Rocky films within
Amityville II
. This film includes one of Young's rare darker roles as he plays an abusive, sadistic, and atheist father/husband in contrast to his more easy-going roles. It is the second movie in the
Amityville Horror
saga.
Amityville II set the pattern for low-budget sequels with little reference to real-life events in Amityville, and is the only other film in the series to feature music composed by Lalo Schifrin.
Ad blocker interference detected!
Wikia is a free-to-use site that makes money from advertising. We have a modified experience for viewers using ad blockers

Wikia is not accessible if you've made further modifications. Remove the custom ad blocker rule(s) and the page will load as expected.